Description
High efficiency, low maintenance and maximum performance. All the features demanded by today's pool professionals. The Max-E-Pro has our new Quick-Lock trap cover ring and the 2" ports incorporate internal and external threads. Available in single- and two-speed models, with ratings from 1/2 to 3 HP. Built with quality construction using a durable one-piece pump housing constructed of Dura-Glas Sta-Rite's industry leading glass-reinforced composite resin. Fast cleaning with a new Quick-Lock trap covering permits fast access to strainer basket. Large see-thru lid makes it simple to check for debris. A strong, sturdy, specially-designed base dampens sound and vibration, making the Max-E-Pro one of the quietest pumps in its class.
Sta-Rite's reputation for top-of-the-line equipment is unparalleled in the industry. And we got there by gaining the confidence of professional pool builders and ultimately satisfying pool owners. Every feature of the Max-E-Pro ® has been engineered to answer the needs of today's savvy buyer: high efficiency, low maintenance and reliability. The Max-E-Pro nails it on all counts.
Features:
High-efficiency motor and superior hydraulic design deliver effortless performance, energy savings and extend the life of the pump

Easy-to-Install – 2" ports include external and internal threads for more plumbing options

The engineers were listening when pool owners said low maintenance was important. They designed an extra-large trap to hold more dirt and a "clear-view" lid so you can check for debris without lifting a finger
Rugged weather-resistant construction and a motor rated for continuous duty make the Max-E-Pro a sure bet for years of trouble-free operation
Viton Shaft Seal – Longer-lasting seal stands up to the harshest environments
Superior Hydraulic Design – Moves larger volumes of water, resulting in lower operating costs
Precision-fit internal components and a specially designed sound-dampening base make the Max-E-Pro extremely quiet. So your piece of paradise remains peaceful!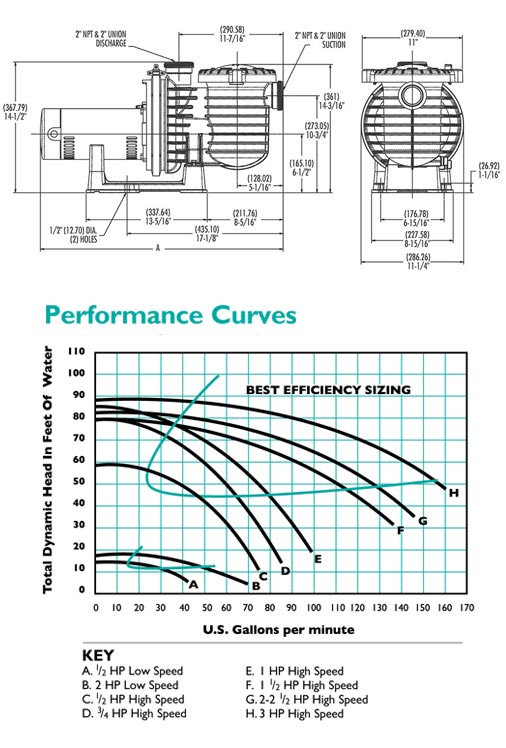 Payment & Security
Your payment information is processed securely. We do not store credit card details nor have access to your credit card information.